Frequently Asked Questions
What is Shouta Biz®?
Looking to reward and incentivise your team? Just scored a great new client? Need to build rapport with a sales lead? Or maybe you're in need of an innovative way to delight your customers. Shouta Biz® is a slick digital gifting dashboard that lets you send nano-gifts® like coffee, drinks and more to reward, thank or congratulate in an instant.
How is Shouta Biz® different to Shouta® App?
Shouta® App is for shouting friends and family, Shouta Biz® is for shouting teams, customers and more. We've taken all the great "Send shout" features from Shouta® App and created an online experience more appropriate for businesses with additional functionality. When you send shouts through Shouta Biz®, your shoutees will still receive their shouts via Shouta® App.
How do recipients redeem their shout?
When you send someone a shout through Shouta Biz®, they'll get instant access to a reloadable, prepaid Shouta® Mastercard which is accessed through Shouta® App. The card is digital only so once they've added it to their digital wallet they can tap and pay for their shout wherever Mastercard is accepted.
Can I add other team members to my company's Shouta Biz® account?
Yes you can. Click on 'Menu' and then 'Users'.
What is the difference between an 'admin' and a 'user'?
Admins have greater functionality like visibility across transaction history from all users and only admins can add new users into your Shouta Biz® account.
Any fees?
Shouta Biz offers three subscription plans.
Basic, Standard and Premium. Check out the pricing here.

We charge a service fee of 4% to 7% (depending on your plan) on your shout total.

The fees cover the running and maintaining Shouta Biz® and Shouta®, the issuing of the prepaid card and the infrastructure to support the program. We hope you'll send shouts to your team or customers so you see for yourself what a great experience we have created.

How do I pay for shouts on Shouta Biz®?
Choose to 'pay by card' or 'company balance' at checkout. TIP: Some credit cards, not all, charge a cash advance fee because Shouta™ is a prepaid card. Therefore if you're paying by card we recommend only paying by debit card.

If your company doesn't have a debit card then load up a 'company balance'.
What is 'pay by company balance'?
These are funds that have been prepaid and loaded onto your Shouta Biz® account. Simply draw down from this amount by choosing this option at checkout.
How do I load funds onto the 'company balance'?
Admin Shouters have the ability to -
1. Click 'menu' then 'overview and funds'.
2. We'll send you an invoice for prepayment which can be paid by bank transfer.
3. Once funds are transferred, your balance will load onto your account.
Can shouts be refunded?
Yes, after 7 days, you can refund un-received shouts back to your company balance. If you have subscribed to a Premium Shouta Biz® plan.

1. Click 'menu', then 'shout history'.
2. Click into the relevant transaction date.
2. Click the 3 dots in the top right, then 'refund'.
Can I send shouts to multiple people?
On a Basic plan you can shout up to 10 shoutees at a time using our CSV template.
On a Standard and Premium plan you can send up to 100.
Simply download the template, enter in the shoutee details, save it, then upload it. You will see this option in step 4 of creating your shout.
Can I save a list that I upload into the shoutee section?
Yes, the save a list feature is available if you are on a Premium plan.
Do I need to enter in a mobile number and email to send shouts?
With Shouta Biz® you can send to an email, mobile or both depending on what fields you enter.
Can I schedule shouts?
You can schedule shouts if you have a Premium plan. This feature is not available via the Basic or Standard plan.
Will I know when a shoutee has received their shout?
You will have access to redemption data if you have a Standard or Premium Shouta Biz® plan.

1. Click 'menu', then 'shout history'
2. Click on the transaction date.

When the status is 'received' your shoutee has the App to view your shout. If the status is 'sent' your shoutee hasn't yet got the App.
Can I send a reminder to someone who hasn't received their shout?
If you have a Standard or Premium plan, yes you can:

1. Click 'menu' then 'shout history' then click on the date of your transaction.
2. Click the 3 dots in the top right, then 'nudge'.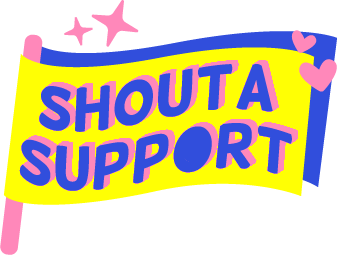 Don't see what you are looking for? Contact us.