One gift card,
never-ending gifts
Create the perfect digital gift, personalise it then send it wrapped up as a digital Shouta® Mastercard, ready to spend anywhere. Unlike gift cards, your recipient gets to pick where they redeem their digital gift.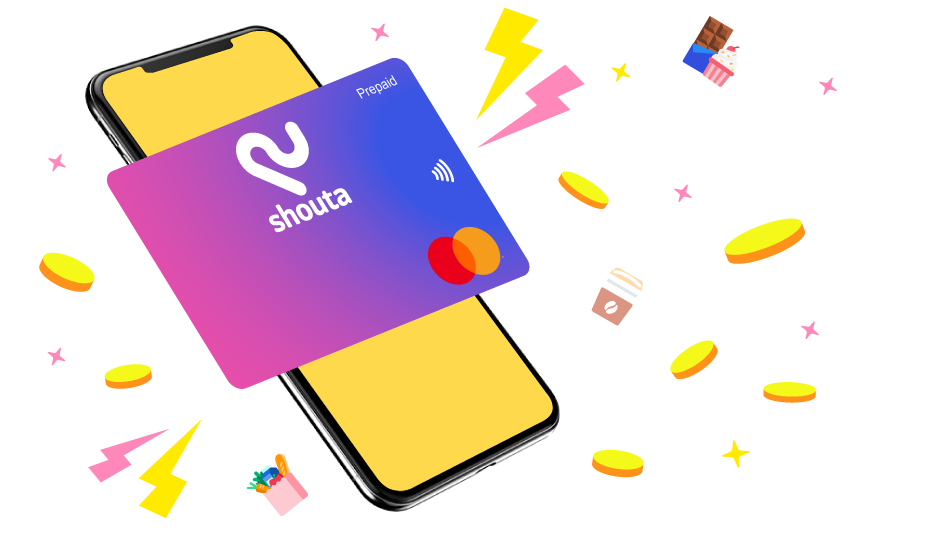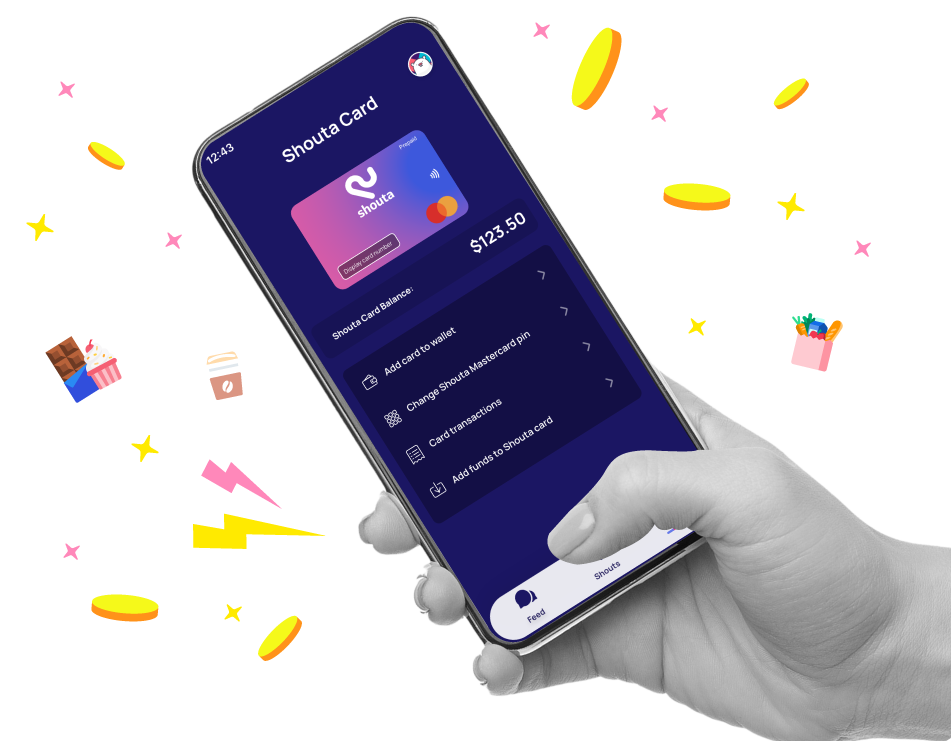 An instant digital gift, straight to their phone
Thanks to the magic of the Shouta® Mastercard, good vibes go straight from your heart to their phone in seconds.
Your digital gift is instantly accessible on this reloadable digital debit card, which they simply activate and add to their Apple Pay or Google Pay wallet and use anywhere (yes anywhere) in Australia that accepts Mastercard.
POWERFUL FEATURES
What makes Shouta® Mastercard special?
Shouta® Mastercard offers way more flexibility than traditional gift cards. It's digital, reloadable, secure, and environmentally friendly, and can be used anywhere Mastercard is accepted across Australia.
Unlike gift cards, the Shouta® Mastercard tops up each time you receive a shout.
With Shouta® Mastercard, your recipient can spend wherever, on whatever you like. Gifted a Coffee but feel like a Wine? No worries.
Keen to shop online? Grab your card details from the App. Just make sure you have enough funds to cover your purchase.
Shouta® Mastercard is a secure card added to your digital wallet and stored together with your other cards.
Shouta® Mastercard ticks all the boxes.
All the boxes!
Shouta® Mastercard vs Gift cards
Wondering how our Mastercard compares to other gift cards on offer? We've compiled this handy comparison table to highlight just that!
| | | |
| --- | --- | --- |
| Instant | | |
| Send via email | | |
| Send via SMS | | |
| Reloadable card | | |
| Card in digital wallet | | |
| Secure digital card | | |
| Flexibility to spend at any retailer, online or in-store | | |
| Gift expires after 3 years | | |
Shouta® vs money transfer
Don't bother with a boring, impersonal money transfer. Jazz up that birthday present, promotion congrats or treat using Shouta.
| | | |
| --- | --- | --- |
| Instant | | |
| Personalised | | |
| Received as a digital gift | | |
| Receive notifications when your gift is viewed and spent | | |
| Comment and chat via the Shouta™ App | | |
| Notification of gift received | | |
| Reloadable Mastercard | | |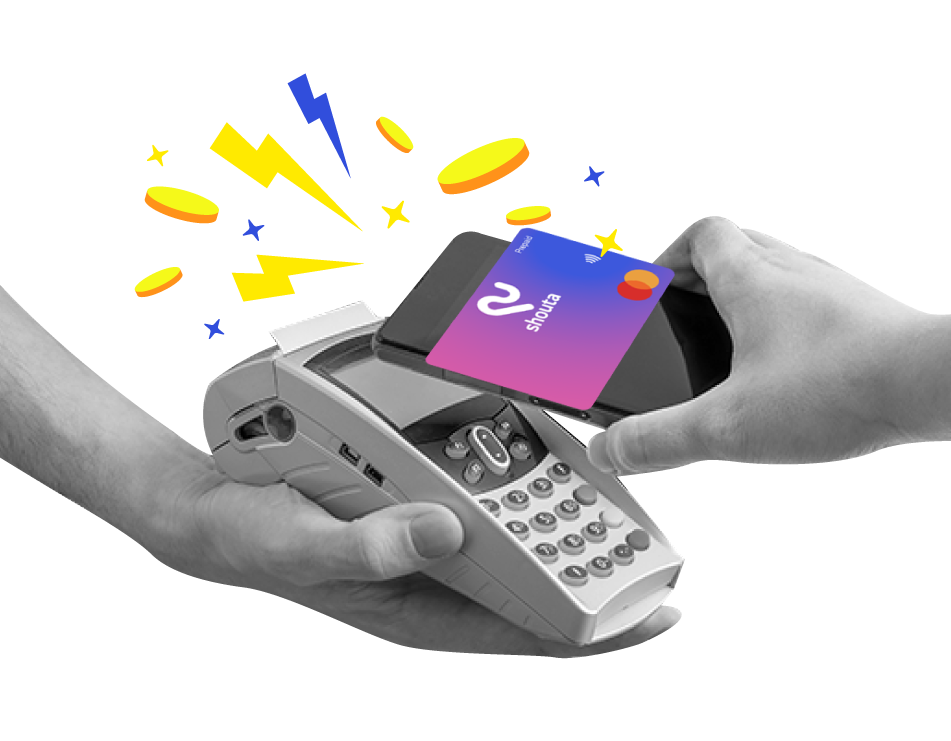 Discover true flexibility with this next gen gift card
If you're shopping in-store, open your digital wallet and tap and pay with your Shouta® Mastercard. Or, let Shouta® cover your next online shop by grabbing the card deets in the App.
Mind your balance
Our gifts may be digital, but the struggle of getting your card declined is too real. Luckily you can keep tabs on your Shouta® balance in the App to make sure you're always cashed up.
Pro-tip: If you cover the shouts you send with your Shouta® balance, you'll pay 70% less fees (paying it forward really pays off, huh?)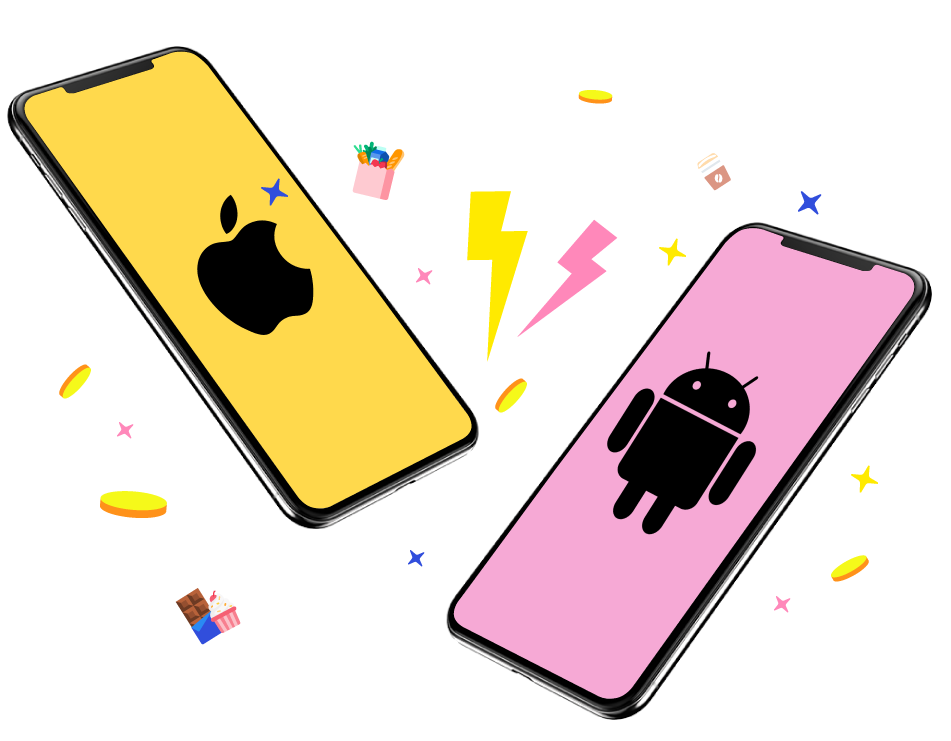 The technical stuff
To access their Shouta® Mastercard, iPhones users need iOS 11 and Android peeps need 8.0 or higher, plus Google Pay set as the default wallet. You only need to add your Shouta® Mastercard to your digital wallet once: the next shout you receive - from your mate or workplace will top up to the same card.