Shouta® Mastercard vs gift cards
Discover the unique benefits of Shouta Mastercard in comparison to other gift cards.
Gift cards are a great gift
Are you in search of a gift for someone's birthday or special occasion? Gift cards a good option, especially when you are unsure about the type of gift to purchase. But what exactly are gift cards, and how do they compare to Shouta Mastercard? Before we get into the key differences between gift cards and Shouta Mastercard, here is a brief run down about gift cards in general.
The expiry date is on the gift card and is usually four years. You can buy a massive product range at irresistibly low prices with the card. However, you cannot exchange/redeem the card for cash or use it for cash advances. Finally, the Kmart gift cards are not reloadable, and you can only use the value with which they are purchased.
Types of Gift Cards
There are two types of gift cards, and their classification is based on how and where you can use them. The classification narrows down to those you can use for in-store purchases at particular retailers and merchants. And for the second type, you can use them anywhere since they are not merchant specific.
Closed-loop gift cards
This type of gift card is affiliated with a specific merchant. The cardholders or customers can only shop from a single merchant or its different retailers. Once the card balance is used up, the card is of no more use because you cannot reload it. Closed-loop gift cards don't need any activation fee, and they are popular with baby registries and weddings. It is advisable to always check the card balance and use it before the specified expiry date. The cards usually have the merchant's logo and not the payment processor's logo for marketing purposes.
Open-loop gift cards
For this gift card, you can use it for purchases across a wide range of merchants that accept the card. Unlike their counterparts, they cover online shopping that you can only use for specific in-store shopping. The personal balance for the open-loop gift card is reloadable, and you may require activation fees ($5) to use some of these card types.In addition to the ability to reload this type of gift card, you can use it to withdraw cash from ATMs. However, this option is available for non-affiliated cards only.
Differences between digital gift cards/egfit cards and a physical gift cards
Egift cards or digital gift cards are the same, and they are distinctly different from physical gift cards as follows:
It takes between five and ten business days to send a physical gift card, but you can send an egift card within four hours.
The pin and card number are on the back of physical cards, while for the egift cards, the two are under the barcodes.
Digital gift cards are safe and secure, and you can store them inside digital wallets.
Physical gift cards are prone to damage or loss if not handled properly
Egift cards can sometimes be customised with a personal message whereas you can't do this with physical gift cards.
Egift cards are usually sent by email whereas physical gif tcards need to be bought in store and posted out or given in person to your recipient.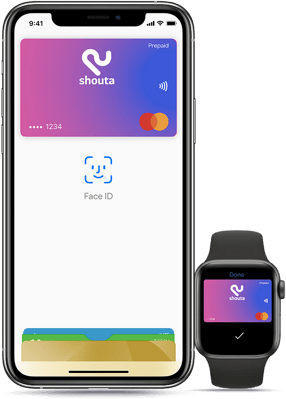 Shouta Mastercard in comparison to gift cards
The main point of difference is that unlike egift cards or digital gift cards and physical gift cards, the Shouta Mastercard can be redeemed anywhere Mastercard is accepted in Australia.
Gift cards can come across as impersonal but the Shouta Mastercard comes with a customised gift including a special message and an image which makes it much more personable.
The Shouta Mastercard is sent instantly to your recipient via SMS or email.
Shouta Mastercard is a digital only card that is housed within a digital wallet like Apple Pay or Google Pay. This makes it much more secure that physical gift cards that can easily be lost and much more convenient than typical egift cards which get lost in email threads.
Unlike egift cards or physical gift cards, the Shouta Mastercard is reloadable which means your recipient only needs to activate one card. Then every time they receive a shout (digital gift) from someone using Shouta App, then the same card is topped up. The card can also be topped up by the recipient via direct debit.
Shouta Mastercard is an environmentally friendly option being digital only as it isn't another plastic gift card.
The balance on the Shouta Mastercard can easily be checked within the Shouta App.