Shouta® Mastercard vs Prezzee gift card
Before we look at how the Shouta® Mastercard compares to Prezzee gift cards, let's look at the benefits of each of them.
About Prezzee gift cards
The Prezzee gift card and Shouta Mastercard have so much in common. First, the two online gift cards can be stored in a digital wallet, and the gift card balances of both cards are reloadable. Either gift card is the right gift regardless of the occasion. You can use them in baby showers, anniversary celebrations and birthdays. You can personalise each egift card to avoid the usual boring stuff by adding a personal video, voice message, photo, or text message.
Prezzee Gift Card Categories
The Prezzee gift card has three categories as outlined below. Besides the cards, there are also gift voucher options you can consider.
Prezzee Australian egift Cards
These are online and store egift cards that you can only use in Australia. In addition to the online gift cards, there are also many plastic gift cards that you can use in stores across Australia.
Prezzee International egift Cards
The international option allows you to send unlimited egift cards to your friends and family in the US and New Zealand. A good example is the Prezzee promise egift cards that you can swap at over a hundred different brands.
The JC Penny and Macy's are the top brands you can use to send digital gifts to the US. While for New Zealand, you can consider brands like David Jones, Farmers, JB HiFi, among others.
Prezzee business gift cards
The Prezzee business egift cards help you with your corporate gift needs. Corporate gifting is not easy because it involves too much decision making, but this egfit card option is a perfect gift card for any employee.
You can choose from the Prezzee gift card catalogue, which offers over 200 options. Also, you can have your Prezzee smart egift card branded with your brand logo or co-branded with other company logos of your choosing.
You can send the gift cards in bulk or as a single card to your employees. The option to have them delivered within a scheduled timeline or instantly is also available.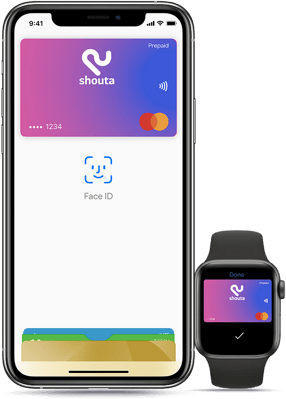 About Shouta Mastercard
As for the Shouta Mastercard, this is an extremely flexible gift card that can be redeemed right across Australia, anywhere Mastercard is accepted. This egift card is reloadable and can be topped up via shouts (digital gifts) that are sent to you via Shouta App from your friends or via Shouta Biz from your workplace. Alternatively you can top up the card yourself via the Shouta App via a direct debit.
To activate the Shouta Mastercard you need to download Shouta App from Google Play or the App Store. Once you've activated the card it can be safely stored in your Google Pay or Apple Pay digital wallet.
The digital gifts from Shouta App or Shouta Biz are instantly loaded onto the Shouta Mastercard and can be redeemed online or at any store that accepts Mastercard.
How Prezzee Gift Card Compares to Shouta Mastercard
They both offer egift card options; hence no plastic waste is generated, but the Prezzee gift card has some plastic card options.
Both are available online and through their respective apps; Prezzee app and the Shouta app.
The Shouta Mastercard is reloadable while Prezzee gift card is not.
While the Prezzee gift card may have limitations on where you can use it, Shouta is acceptable online and across all stores that accept Mastercard.
In conclusion, if you're after a gift card that can be personalised, customised and has the flexibility to be spent anywhere, then go for sending a digital gift via Shouta App which becomes redeemable via Shouta Mastercard.