Shouta® Mastercard vs Visa gift cards
Before we look at how the Shouta® Mastercard compares to the Visa gift cards, let's look at what you get from each of them as a user.
About Visa gift cards
A visa prepaid gift card is a preloaded gift card that the recipient can use to make purchases at their convenience. There are hundreds of different gift card options you choose from. And they can be fully branded, co-branded, and those with personal details. Unlike other gift card types with limitations to in-store purchases and specific merchants, you can use them like cash anywhere they are accepted.
Popular gift card issuers in Australia include Blackhawk network and ichoose which offer single use cards, reloadable cards and prepaid cards all of which are great options to be used as gifts and rewards for employees or friends.
Features of prepaid Visa gift cards
Visa prepaid gift cards are accepted globally, and you can use them in over 28 million merchants. They are accepted in-store, online and over the phone.
They are direct post gift cards that can ship anywhere in Australia for recipients to use after securely activating them.
The cards are PayWave enabled for the cardholder to use in purchases conveniently anywhere.
Visa gift cards are personalised, and you can have them according to brand, registered trademarks and personal details.
There are both reloadable and single load cards where you can only use the initial available balance for the single load options.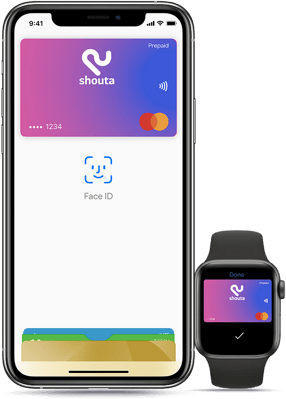 About Shouta Mastercard
The Shouta Mastercard can be used across Australia, anywhere Mastercard is accepted. This egift card is reloadable and is topped up by receiving shouts from friends or your workplace via Shouta App or Shouta Biz. Alternatively the card can be topped up yourself via Shouta App using direct debit to a linked bank account.
You can buy a massive range of products with this digital gift card and it offers true flexibility without being locked in to specific retailers.
How Visa Gift Cards Compare to Shouta Mastercard
Visa cards and Shouta Mastercard have a lot in common. Some of the shared features include:
They can be used anywhere that Visa or Mastercard are accepted.
Ability to reload the cards although in different ways.
You can also check your balances and transaction history for both.
Features that differ between the prepaid Visa card and Shouta Mastercard are as follows:
Shouta Mastercard does not have a physical card option, making it more environmentally friendly as it is a digital only card.
Shouta Mastercard comes together with a personalised digital gift sent to the recipient by SMS or email. The sender can suggest what type of gift they are sending ie: a coffee and this includes a personalised message and an image - either a default image from Shouta or the sender can choose their own image to use.
Shouta Mastercard is activated via the Shouta App and this is also where the balance on the card is checked.
The Shouta Mastercard is reloadable via a direct debit top up from the App or when someone sends you another digital gift through Shouta App - then the same card tops up.
The Shouta Mastercard is digital only and is housed securely within the recipients digital wallet, either Apple Pay or Google Pay.
FAQs
Will I be charged for transactions?
You will not incur any charges for transactions with your gift card. Neither will you be charged when checking the gift card's balance.
Can I use the gift card to withdraw money from an ATM?
Depending on the prepaid gift card type, you may or may not be able to withdraw cash from ATMs. Therefore, check with your provider on this option. For the Shouta Mastercard you can't withdraw money from the ATM.
What should I do if I lose my gift card?
If you lose your Visa gift card, immediately report this to your provider to block any subsequent transactions. The card is also replaceable if its balance is above the threshold. You can't lose the Shouta Mastercard because it is housed in a digital wallet like Apple Pay or Google Pay.
How long is my gift card valid?
The Visa prepaid cards are usually valid for 12 months, but you can renew them prior to their expiry date and continue using them. The Shouta Mastercard is valid for 3 years.